The Campsite
Böda Sand – The pearl of Öland
Böda Strand
KronoCamping Böda Sand is one of Sweden's most complete holiday facilities. It is located on a long, child-friendly beach. Paradise for families with children with sauna, spa, fun shower, play land, swimming and lots of children's facilities. Choose from camping pitches, cottages in many different sizes, "love nest", tents or mobile homes. There is an ICA, bakery, café, shops, fast food stall, and one fully licensed restaurant.

Lodging:
The fee for tents and trailers is normally 225 sek per tent during low season. We have a special festival price of 150 sek per day for those who live in tent. This price is for 1 person up to max 4 persons on the same camping spot. If you want an electrical hook-up you pay 40 kr extra/day.

You may also rent small and large cottages. During the festival there is a special 10% discount for one week and a 20% discount for 10 days. For shorter time then a week there is no discount. To get the discount you need to call the reception at the camping 0485-222 00 and if you already booked you can call and get the discount anyway. Because the festival begins on a Friday, the camping has made an exception from the Sunday to Sunday booking policy. Contact them at info@bodasand.se or by telephone: 0485-222 00

Food: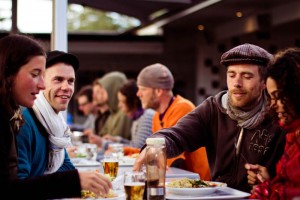 There is a well-stocked  ICA supermarket located in the center of the campground. The campground has nice cooking facilities if you want to make your own food but please note there are no pots and pans or any kitchenware provided in these kitchens.  The cottages all come with cooking ware.

The restaurant Beach Club is beautifully located right near the shore. They offer a complete lunch and dinner menu, a reasonably priced salad buffet,  Öland's specialties and high quality à la carte. The bakery, open  from 8 A.M, serves breakfast with a choice of smoothies, sandwiches, yogurt,  muesli, juice, coffee and  tea.  The eggs are organic as well as most sorts of flour and seeds used in the breads. You can also buy fresh bread and crackers and have a picnic. It is possible to order vegan and gluten-free breads and sandwiches.

 
Festival participants are welcome to use the pool which includes an entire play center with slides of various sizes, a pirate ship with water cannons and more. There is also a sauna and in the area there are many playgrounds and trampolines.